Looking for garden benches for your summer stay-cation? Here are some awesome garden benches where you can sit, relax, read a book, be lazy, and just enjoy your garden this summer!
Most-Liked Garden Benches  You'll Surely Love
Who doesn't love summer and what's not to love about it? Your flowers are blooming, birds are chirping, and butterflies seem to be dancing in your garden. The sun is shining (and pretty hot too) which gives you a reason to slack off a little when you've worked your butt off the rest of the seasons. Now, that's what garden furniture is for. Though good designs can help boost your garden landscape, go for ones that function for you and your family's relaxation as well. Read on as these designs for garden benches might just get you all the more excited for your vacation at home.
1.  Rustic Garden Bench

You'll totally get comfy in this quaint blue garden bench you can decorate with cute outdoor cushions and pillows.
2. Half Log Garden Bench
Don't let that fallen tree in your yard rot away, instead make this charming piece of garden furniture for your outdoor pleasure.
3. Stacked Stone Slab Garden Bench
Oh, I'm just breathless at this charming outdoor bench that's fitting for fairyland. A few more shade garden plants, lots of flowering bulbs and it could be very well out of this world.
4. Concrete Garden Bench
|

Few materials endure harsh weather like stone or concrete. What better garden furniture than a concrete outdoor bench to last generations in your garden.
5. Wooden Garden Bench And Planter
Frankly, I've never seen a cooler garden bench with a raised planter. Whether you a have a small garden space or a substantial one, this garden bench just rocks!
6. White Washed Wooden Bench
Turn your landscape into a charming cottage garden with a whitewashed picket fence and garden bench. You can build this DIY wooden outdoor bench then paint it white for a cozy and snug cottage garden repose.
7. Mosaic Garden Bench
You'd think this garden bench is way over your budget, but you can make a mosaic garden bench by yourself. If you've got leftover tiles from a house renovation, then you can do this one.
8. Artisan Garden Bench
Isn't this a great idea? Now you can really sit back and relax with those old chairs neatly propped up on the garden bench.
9. Repurposed Old Chairs Garden Bench
|

This used to be two separate chairs without seats that were smartly transformed into one cute garden bench. Isn't it a smart idea?
10. DIY Repurposed Metal Headboard Garden Bench
It's fun to go to thrift shops sometimes, you never know what you'll find–it's like treasure hunting. This metal headboard, for example, could have been headed for the junk, but look how neat an outdoor bench it is!
11. Wagon Wheel Garden Bench
This is why we never throw some stuff away. Imagine what they could into before you let things end up in the dump. Isn't this wagon wheel outdoor bench awesome?
12. Weathered Garden Bench

It's not always 'out with the old, and in with the new' because old things can always make a comeback. The wear on this old wooden bench definitely adds charm.
13. DIY Circle Bench Around The Fire Pit
Turn your backyard into one large outdoor living room with this circle bench around a fire pit. Imagine the wonderful hang outs and get-togethers on this side of your garden.
14. Romantic Swing Garden Bench And Arbor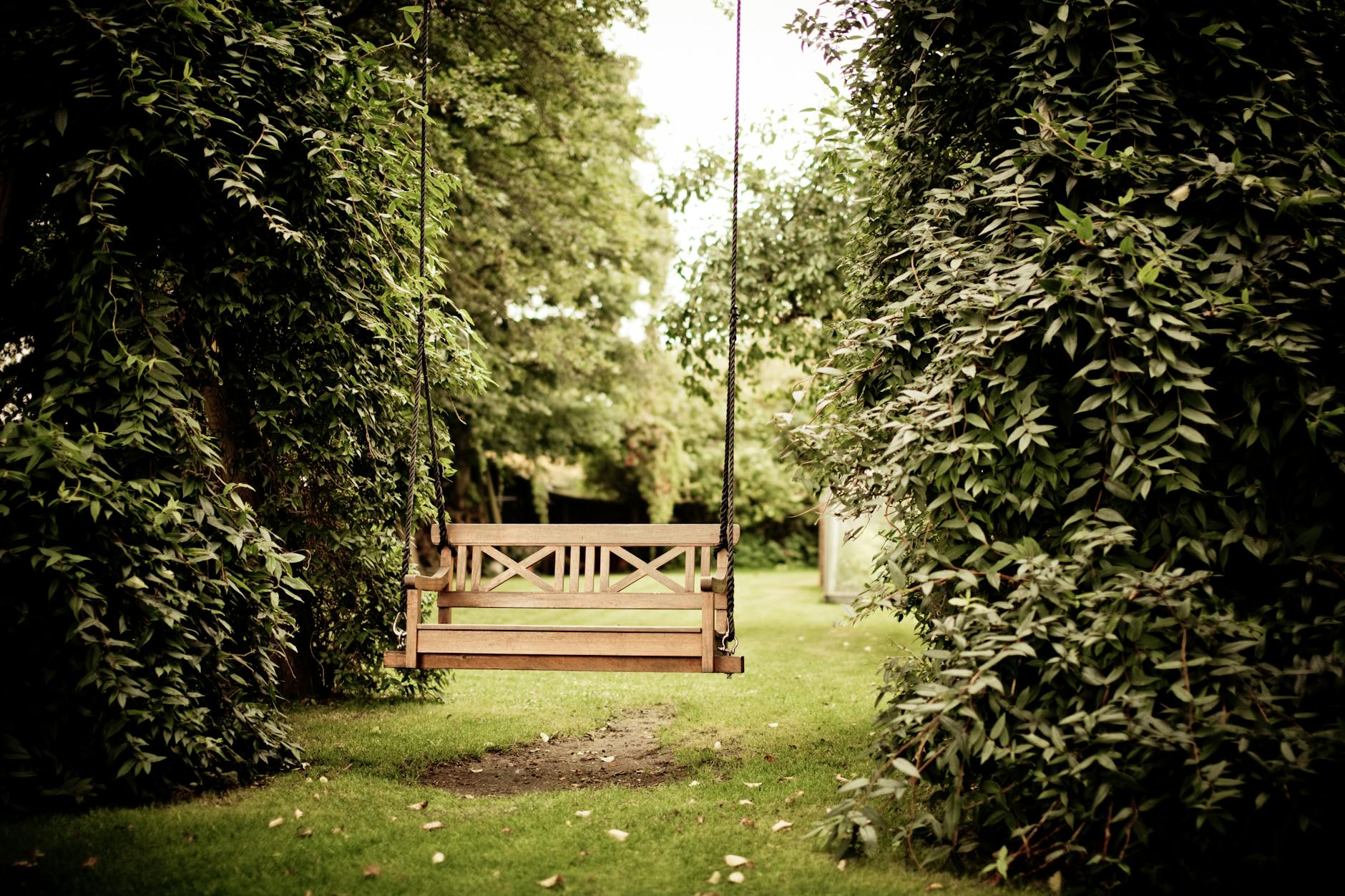 Do I hear some 'ahhs' for this charming and lovely garden swing bench? Some climbing plants over it will definitely make it more romantic.
15. Bold And Lovely Painted Garden Bench
Did you know that the latest trend in garden design is inclined to bold colors in garden furniture and decor? This garden bench certainly got my attention.
16. DIY Outdoor Bench With Table
Isn't this idea for an outdoor bench just brilliant. This garden bench idea could definitely work in a small space yard and garden.
17. Sunny Yellow Garden Bench
|

A bright yellow outdoor bench against a backdrop of green? I totally dig it! It makes my garden all the more bright and cheery on a warm summer day.
18. Distressed White Picket Fence Outdoor Bench
Even your old whitewashed picket fence deserves a comeback in this repurposed garden bench.
19. Williams Sonoma-Inspired DIY Outdoor Bench
The latest in garden furniture trend calls for minimalist design–less is best, they say. Well, don't you think so too? I sure do!
20. Repurposed Bed Frame To Outdoor Bench
This is one other amazing idea for re-purposed furniture. Surely, your leisure will be all the more relaxing with a bed turned into a bench.
21. How To Make A Pallet Outdoor Bench
Want to make this DIY garden bench practically for free? Find out where to get pallets for free here to make this nifty garden bench at a minimal cost.
22. DIY Pallet Outdoor Bench

Make sure to build this project with pallets that are safe to use. You can also learn how to take pallets apart safely for a more enjoyable DIY project.
23. Revamped Edwardian Outdoor Bench
Don't be disheartened over an old and rusty wrought iron outdoor bench. It's a chance to transform it into this uber-charming outdoor bench.
24. Easy DIY Cinder Blocks Outdoor Bench
Make an instant garden hang out with this quick and easy outdoor bench from a few cinder blocks and woods.
25. Repurposed Picket Fence Into Outdoor Bench
Isn't this lilac-painted outdoor bench made from a picket fence also charming? I'm seeing a trend here!
26. DIY Wooden Garden Bench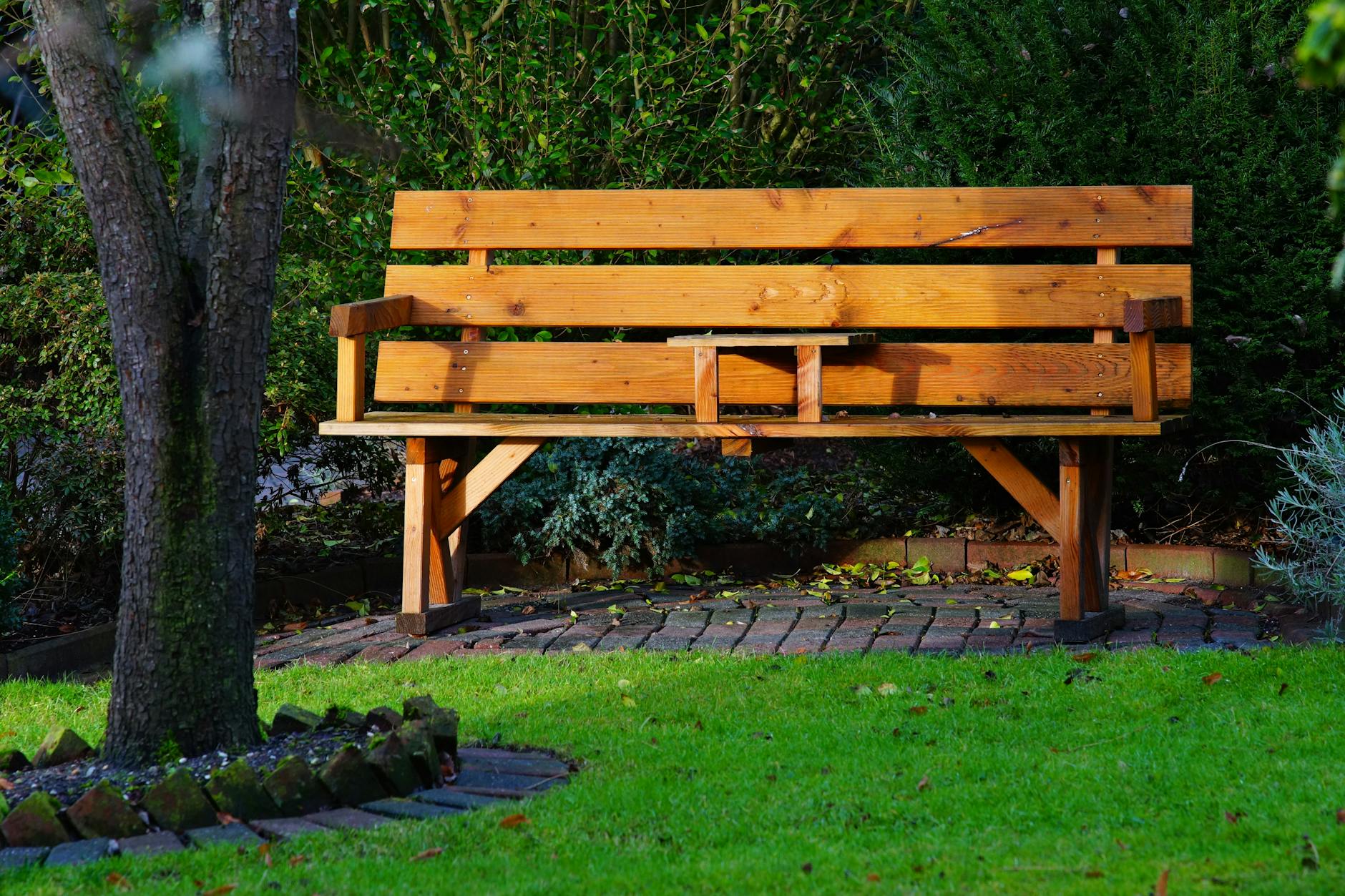 Whether on your porch or garden, this rustic yet elegant garden bench design will fit perfectly!
27. DIY Outdoor Bench With Danish Woven Cord Seating
Add extra comfort to your outdoor bench with this woven seat idea. Make sure to use an extra sturdy rope if you're planning to make an outdoor garden bench with this Danish cord seating.
Watch this video for an easy and simple DIY garden bench:

There you have it, gardeners! Design ideas for garden benches that are perfect for your outdoor repose. Your garden benches don't need to be expensive and all-out luxurious. They just have to be functional, cozy and comfy for you and your family to enjoy!
Which of the garden benches did you like best? I'm interested to hear all about it from your comments below!
Looking for more garden ideas? Check out these budget-friendly garden shed ideas for your ultimate garden center!
Don't forget to follow us on Facebook, Instagram, Pinterest, and Twitter for more smart gardening ideas!
Editor's Note: This post was originally published in July 2016 and has been updated for quality and relevancy.