How to grow fruits from seeds? Growing fruits from seeds should be a gardening skill you should have in your list of gardening activities this spring. Find out what fruits you have been buying from the grocery store can actually be regrown from the seeds. I'm sure some of these fruits will surprise you!
How To Grow Fruits From Seeds, The Fun & Easy Way
Click here to jump to the infographic.
I've grown strawberries, maintained wild berries, and an apple tree. It really didn't occur to me to try growing fruits from seeds of store-bought fruits. Having been introduced to growing food from scraps made grow fruits from seeds too. Check your favorite fruits here and see which ones you can enjoy in a few months or years with new fruits grown from the seeds!
1. Growing Apples From Seeds
A good-old American homestead will always have an apple tree in the yard. But the modern ones have somewhat excluded them in their landscape, it's such a shame. I wouldn't want to miss out on the early spring apple blossoms that are just lovely. If you like the idea, you can start now by growing apples from seeds.
2. Avocado Grown Indoors From Seeds
When I saw Bruce Willis growing an avocado in his movie 'Red', I sure got curious and started growing one too. My family loves avocado and I think it won't be long and we'll be harvesting some fresh avocados. Start saving those avocado seeds from now on, and start growing them at home.
3. Kiwi Vines Grown From Seeds
Although the common kiwi fruit with the fuzzy skin is not hardy, there are varieties you can grow in temperate climates. The cold hardy variety can tolerate temperatures as low as less than 25 degrees in the eastern United States. But you can try growing the fuzzy ones, in warmer climates, from seeds.
4. Pear Seeds
Much like the apples, pears can be grown from seeds with the same reservations and advantages. I prefer to enjoy the advantages. The fun in seeing the seeds germinate and seeing them grow through the years are what I look forward to. Plus fragrant and lovely pear blossoms when the time comes.
5. Nectarine Or Peach Pit
I love the smell of peaches or nectarines as well as the delicious taste. Although they're almost a staple in the house, I've never thought of growing them. So now I'm giving it a try and will save the seeds from now on.
6. Growing Lemon From Seeds
Who doesn't love a refreshing lemonade on a hot summer day? I sure do! And I have lots of uses for lemon in my kitchen, I just have to have a steady and fresh supply of this fruit. Germinating lemon seeds is easy, even your kid can do it. To grow it into a fruit-bearing lemon tree, this garden season guide will help.
7. Growing Sour Sop Or Sugar Apples From Seeds
These tropical fruits are making quite a stir among the health-conscious for its supposed medical benefits. In warmer climates like Hawaii where the fruit is common, they can be grown pretty easily from seeds. Well, you can always experiment with the seeds of store-bought ones in the warmer mainland.
8. Melon Or Cantaloupe Seeds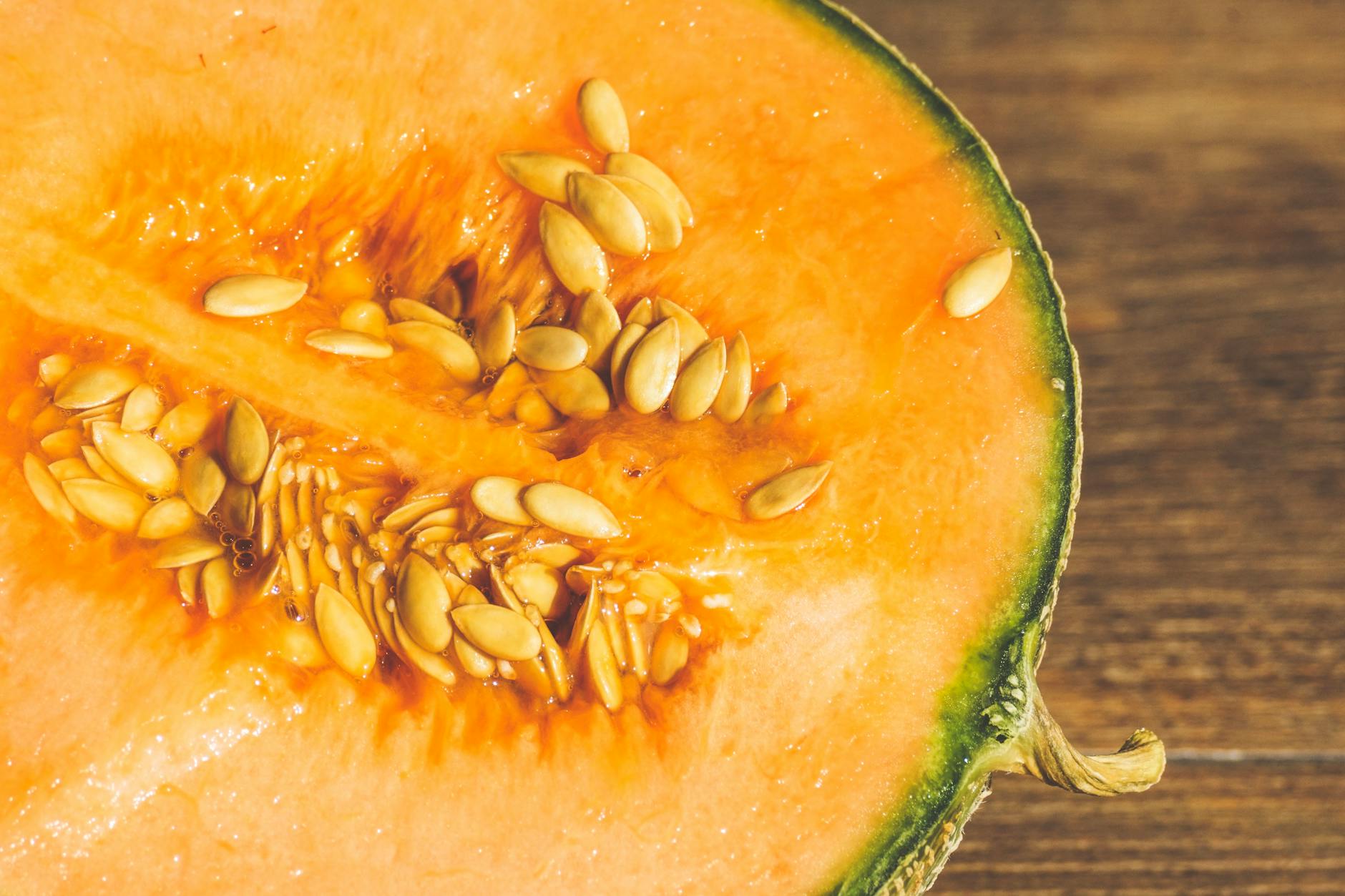 Like most fruits and vegetables from the Cucurbitaceae family, melons are grown from seeds. With all the seeds found inside the melon, you can grow as much as you want. If you have been previously throwing them in the dump since they will not do in the compost bin, start saving the seeds for more melons.
9. Tomatoes Grown From Seeds
Whether tomato is a fruit or vegetable, it is tasty and healthy altogether. And they can be grown pretty easily from seeds too. The more you grow tomatoes the better since there are a lot of ways to preserve them. You can have tomatoes canned whole, halved, or as a sauce. Save tomato seeds and learn how to grow tomatoes from seeds here.
10. Honey Dew Melon Seeds
Although the Honey Dew is also a melon, it is different from the common melon or cantaloupe. Its skin is smooth, unlike the rough cantaloupe. The flesh is a creamy pale to light green and is commonly eaten fresh and raw. Collect the seeds and grow them in the growing season and you'll be enjoying the fruits in 80 days.
11. Watermelon Seeds
You'll just have to wait for summer to grow these refreshings fruits. As watery as they are inside, they need a warm and sunshiny weather to grow well. For now, you can save the seeds as they make tasty snacks.
12. Growing Mangoes From Seeds
Along with pineapples and bananas, mango is one of the well-known tropical fruits and a favorite around the world. You can never miss a seed as large as the mango.  They're better off grown for your own mango tree.
13. Plum Pits
Growing plums from pit or seeds are fairly easy. It's fun watching seeds, you would otherwise throw, grow into tall, fruit-bearing trees. Most varieties grow ideally in hardiness zones 5 to 9. Seed starting is also ideal this winter season as a natural stratification process to germinate the seeds. Bury the seeds 3 inches deep into the soil and mark them so you'll find them once spring time comes.
14. Passion Fruit Seeds
You may not think so considering Passion fruits are known to be tropical plants but they are hardy. They are a hardy perennial plant which can grow in zones 5 to 11. These climbing plants are ideal for growing in trellis and arbors and they can be grown in pots as well. The large flowers are added bonus for your garden landscape too.
15. Growing Oranges From Seeds
Like lemons, oranges can be grown in tropical and sub-tropical areas with a warm summer. Oranges are self-fertile so you can grow just one tree and it will bear fruits. But you can always grow more in containers and even indoors.
16. Pomegranate Seeds And Plants
Pomegranates are enjoyed for the seeds and they can be grown from seeds too. This is one of the five super fruits which are known for their many health benefits. If you want to give growing pomegranates from seeds a try, the mid winter would be the ideal time. Start seeds indoors so they can have time to grow until the spring planting season. You can plant them outdoors when the weather warms in spring.
17. Papaya Seeds
These tasty and healthy tropical fruits don't store well. They ripen fast and before you know it, they end up in the compost bin or the dumpster. If your hardiness zone allows for growing papaya, think again before you throw out the seeds. Papaya is easy to grow and grows fast too in hardiness zones 9 to 11.
Don't forget to download, save, or share this handy infographic for reference:

Want trees for your landscape? Then do an edible landscape and grow fruit trees from seeds. If you don't want the hassle of growing an orchard, you can grow low-growing fruits annually. Growing fruits from seeds can be both a fun and practical gardening idea. Do it with your kids as a fun garden experiment!
Which of these fruits is your favorite? Will you try to grow your favorite fruits? Tell me all about it from your comments below.
Want to grow plants the fun and easy way? Why not try growing food from scraps in your kitchen? Your kids will also enjoy it this experiment!
Make sure to like and follow me on Facebook, Instagram, Pinterest, and Twitter for more gardening tips!