Looking to grow your own perennial flower garden? Searching online must have gotten you overwhelmed with the extensive choices. Much like I was the first time when I wanted to grow everything.
Since you can't grow all, might as well grow perennial flowers this growing season. Then you can explore other flowers as you progress in flower gardening.
I would suggest starting with any of these 10 stunning perennial flowers. Whether you're a beginner or a busy green thumb, you'll find growing a flower garden is easy peasy with these flowers.
Stunning Perennial Flower Garden With 10 Easy To Grow Varieties
Pick These Lovely Blooms To Start A Perennial Flower Garden With
Growing a perennial flower garden was one of my first projects in gardening. I just wanted to grow any flowers but perennial flowers stood out. Especially the easy to grow yet lovely ones.
They provided me ease in gardening since they require low maintenance but live longer. They also added texture, color and personality to my garden.
So for those who dream of having their own perennial flower garden, these 10 perennial flower ideas will help you. Plan your perennial flower garden this growing season and help yourself to some tips here on how to grow these flowers too.
1. Showy Shasta Daisies
Create a stunning lawn border with these equally stunning perennials. Or you can place these plants at the back of your flower bed. The Shasta Daisies will stand out with their tall height and graceful blooms.
These are very low maintenance perennials but must be planted in a fertile soil. You can plant them in light-shaded areas although they love the sun. However, the plant won't tolerate soggy soil or standing water.
With their tall height, they make great cut flowers for your flower arrangement. Once planted, caring for the Shasta Daisies will be easy. Deadheading or cutting off the dead flowers will help avoid diseases and encourage blooms.
2. Dainty Dianthus
A flower garden without a pink flower will seem incomplete. What better flower to grow than Dianthus which are also called Pinks. These are flowers from the Carnation variety which are just lovely with their frilly petals.
Growing these lovely flowers are pretty simple. Grow Dianthus in full sun or in partial shade in a fertile and well-draining soil. In caring for these plants, keep the foliage dry to prevent mildew by watering only at the base.
Avoid mulching the plants and deadheading are necessary since Dianthus are self-sowing. This will avoid Dianthus plants growing on its own but will allow more flowers to bloom.
3. Colorful Coneflowers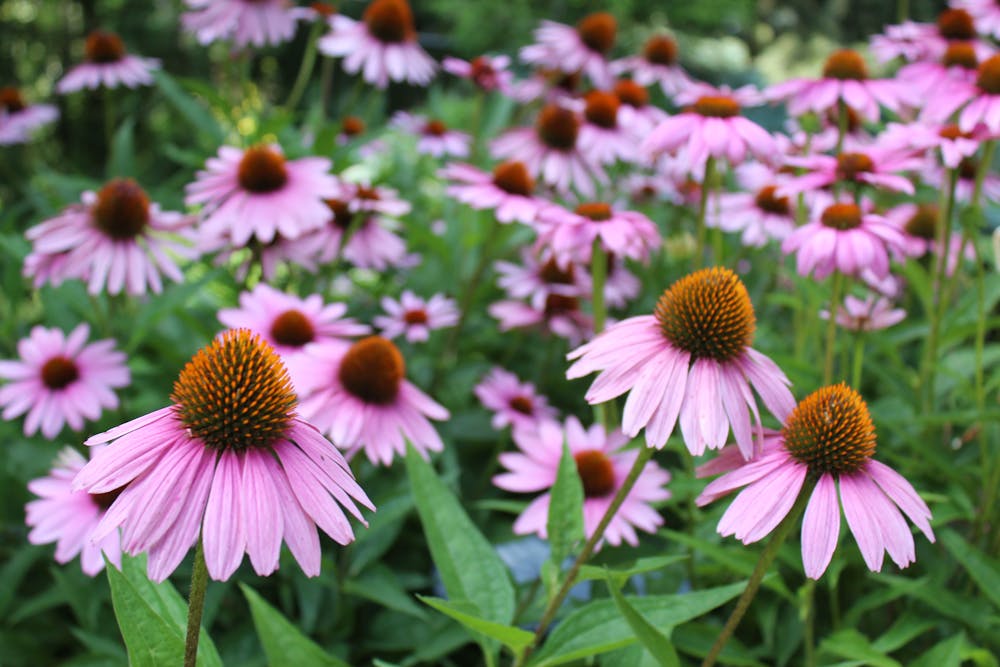 Growing native flowers are a foolproof approach for flower gardening beginners. Coneflowers couldn't get any more native when they practically grow anywhere. But don't underestimate this common flowering plant with their variety of colors and consistent blooms
Now don't underestimate this common flowering plant with their variety of colors and consistent blooms. For gardens with a wider space, coneflowers can serve as a backdrop in borders or flower beds.
Growing coneflowers are practically easy and so is caring for them. In fact, growing them in fertilized soil will only produce verdant foliage lacking in flowers.
4. Classy Coreopsis Moonbeams
I remember picking the seeds of this flower when I was a kid and just crush them in my hands. Then I would scatter the crushed seed just for the fun of it. Bring wonderful memories of childhood into your garden with these classic flowers.
Coreopsis will definitely add color and texture to your flower garden. They also make a great container and long-lasting cut flowers for your bouquets. One plant will give you enough throughout its blooming season.
Simply drops coreopsis seeds in any soil without fertilizers since the seeds need light to germinate. Or you may cover the seeds with perlite or a thin layer of soil. Deer don't like coreopsis but invite bees and hummingbirds over to your garden with these flowers.
5. Cheery Cranesbill Geranium
If you need to fill out bare spaces in your plant bed then choose this plant variety. This variety to Geraniums is the low-growing and sprawling type perfect for the purpose.
Cranesbill geraniums are also perfect for borders and rock gardens. You can also use them as a spiller in a container garden. The dainty purple and blue colors of the plant's flowers blooms in late spring until fall.
A rich, fertile soil, although not required will allow good growth for your cranesbill. An occasional watering will also help produce flowers. Pests won't be a problem with these flowers.
6. Cute Kalimeris Blue Stars
A gorgeous flower garden is made up of flowers with variety in color and structure. While big flower heads are attractive, mixing in some dainty flower sizes add contrast and interest.
Kalimeris blue star is just perfect in creating a contrasting effect. The baby blue colored blooms with a yellow center are reminiscent of daisies. But the flowers are clumped adding volume to a bouquet with just a few stems.
This perennial flower can grow in any type of soil and once established, plant care will be pretty much straightforward.
7. Bubbly Black-eyed Susans
Practically a staple in every perennial garden, Black-eyed Susans are trusty perennials to any flower gardening beginner. Growing this perennial is no-fuss as they can grow wildly and unattended.
These flowers may be common but they sure can add form and color to any flower garden. If you want more flowers then deadheading will ensure it for you.
Since Black-eyed Susans grows wildly in may areas, deer use it as food or shelter. So if you are planning to grow this flowers, plant them near lavender or rosemary to keep deer and other pests off.
8. Sweet Salvias
No wonder pollinators are attracted to this lovely flowering perennial plant. It's got a sweet smell about it drawing helpful insects to any garden. Depending on the variety, the scent will be somewhat reminiscent of the pineapple.
The now popular chia seeds with all its healthy goodness come from this humble flowering plant. Add more contrasting form to your flower garden with the flowers on a spike.
Salvias grow from seeds and once established, plant care will be a walk in the park – or in your garden. Deadheading can also encourage more flowers.
9. Vibrant Veronicas
Speedwell would be the other name for this plant but I prefer to call it Veronica much like calling it a person. Veronicas have a variety of equally nice colors such as pink and purple. But the blue ones are regarded by gardeners as the truest blue among flowers.
There are tall varieties which are preferred for their conservative growth. While the short ones are preferred for ground covers as they can sprawl about in the garden.
When growing veronicas, watering it well while young will encourage growth. Once established, occasional watering will do since they are drought tolerant.
10. Adorable Asters
This one flower your perennial garden must have. They are so delightful, I myself keep this plant in my garden. Asters can bloom until autumn when most flowers have gone for the season.
This is because Asters prefer the cool season to bloom and grow. Or at least a moist soil which is fertile. You can start Asters from seeds but if you're growing from shoots, make sure to choose the healthy ones.
Cut Asters in the winter and divide the plant every two to three years to maintain healthy plant growth.
Check out more ideas on perennial flowers in this video from sugar creek gardens:
Growing flowers are really simple. Wildflowers grow about unattended. But growing your own flower garden is a different story. You will consider a little bit of design and planning for your perfect garden. Then try to grow one with less hassle as can be possible.
Perennial flowers especially native ones aren't just low maintenance but they can be stunning as well. It only takes a well thought out design and the right flower and color combination.
Grow your own perennial flower garden and make a sanctuary of it with these beautiful perennial blooms.
Find the flowers lovely and the tips to growing them insightful? I'm glad to be of help. If you have questions about perennial flowers, do post it in the comments section below and I'd be delighted to be of assistance.
Are you flower gardening beginner? Any novice can become an expert with these tips, ideas and guide for the flower gardening beginners.