Looking for some late minute indoor Christmas decoration ideas? Lucky for you, I've been doing the same exact thing and I'm excited to share them with you! Time flies indeed, I didn't notice I only have a few more days to go before the big day. Fortunately, my Christmas garden is stuffed with winter plants it would be a waste to ignore them. Check out your garden for fresh and natural decor materials and these 25 inspiring indoor Christmas decoration ideas. Find out which of them is perfect for making any area of your home looking fresh and festive!
Our Favorite Indoor Christmas Decoration Ideas
25 Inspiring Indoor Christmas Decoration Ideas For The 25th
Admittedly, I'm no design and decor expert. For my indoor Christmas decoration, I went straight online for ideas and inspiration. In past holidays, I would have opted for ready-made Christmas decor. Good thing, decorating for Christmas now is as easy as taking a walk in the garden. Literally walking in the garden when I have tons of winter plants for decor materials. Nothing will make your home feeling and be smelling like Christmas than natural holiday decor. From your fireplace Christmas mantel to a Christmas table setting, I'm sure you'll find ideas here for a garden-inspired and natural indoor Christmas decoration.
1. Unique Garden-Inspired Christmas Wreath

If unique and exotic is what you are looking for in your Chrismas decoration, then this orchid indoor wreath is for you. You can easily pull this off with potted orchids, some moss, and redtwig dogwood.
2. Ceiling Hanging Christmas Wreath
Give your regular Christmas wreath a twist and hang them up the ceiling for a different take on wreaths. Add Christmas lights to boost the festive mood.
3. Christmas Staircase Decor Idea
I think no area in the home should be left out for Christmas decorations. And this pine boughs and firethorn berry twigs mash-up is a perfect accent to the stairway.
4. Simple Christmas Mantel Decoration
Evergreens and sparkly ornaments are enough to make a small and simple Christmas mantel design. Take this design idea and look out for these charming evergreen plants in the garden to work on.
5. Door Frame Christmas Accents
Don't forget to accentuate your door frame with some fresh decor in the corner top. Make your guests feel welcome this holiday with Christmas accents in the entryway!
6. Dried Orange Slices Christmas Tree Garland
Christmas is generally white and sparkly but who says you can't have a ray of sunshine into your decor and mood. Take this dried orange slices for a warm feel to your Christmas tree.
7. Staircase Christmas Garland

Garlands are such all-around decor stuff. You can place them in the doorway, as a mantelpiece, or around the Christmas tree. And as in this instance, a great decor in the stairway.
8. Evergreen Fireplace Christmas Mantel Decor
After a nice Christmas dinner, the family usually gather around the fireplace. So don't forget to create a Christmas mantel decor in that area as your focal point.
9. Window Garden-Inspired Christmas Decoration
Take advantage of the windows in your home especially the south-facing windows to grow indoor Christmas plants. Poinsettia, amaryllis, and Christmas cactus would be great as Christmas decor.
10. Good Old Christmas Tree

What is Christmas decoration without the Christmas tree? Make sure it's bedecked with Christmas lights and Christmas ornaments.
11. Evergreen And Holly Bedecked Chandelier
Take your everyday chandelier and make it Christmassy with fresh winter plants as pine boughs and holly. Any room will surely light up and feel the holiday cheers with such a chandelier.
12. Rustic Indoor Container Arrangement
Christmas finds itself in a season when most plants are hibernating. But don't let it make you feel less cheery and let your creative side explore how twigs, logs, and pine cones can be very useful in your indoor decor.
13. Indoor Herb For Christmas Decoration
Perennial evergreen herbs are great indoor plants you might as well put them into great decor use this Christmas! Put them in Christmassy containers or make them into mini Christmas trees.
14. Kitchen Christmas Decoration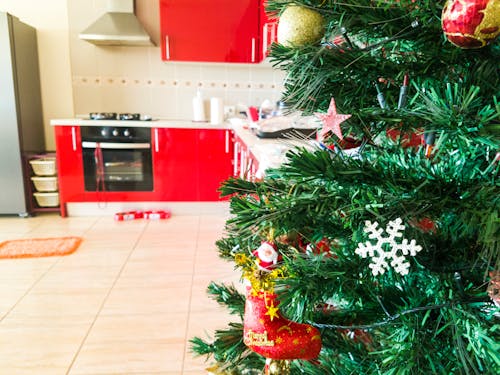 The kitchen is perhaps the most neglected part of the house in terms of Christmas decoration. Decorate a kitchen window or the countertop with mini Christmas trees or Christmas plants for an extra festive look in your kitchen.
15. Mason Jar Christmas Decor Idea
Mason jars really never fail to impress me with the tons of things you can do with it. For Christmas decor, these bottles will really make great candle holders.
16. Evergreen Candle Holder Centerpiece
Christmas table setting centerpieces are important accents to making Christmas meals more appetizing. Make it lavish as well with nice-smelling fresh decor materials for the Christmas centerpiece.
17. Playful Animal Pine Cone Christmas Tree Decor
Give the trusty pine cone decors a twist with this cute animal theme for your Christmas tree. Check out more pine cone holiday decor ideas here.
18. Potted Poinsettia Table Top Christmas Decor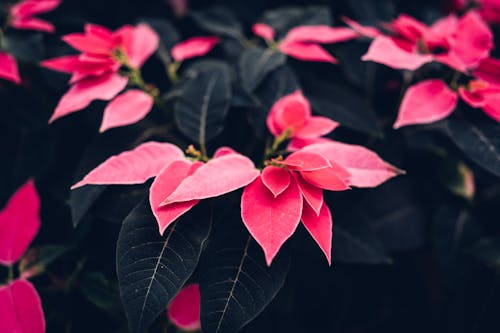 Potted poinsettias are a must in indoor holiday decor. Just add a few accents to these already stunning Christmas plants to spruce up any ignored nook and cranny in your home.
19. Red And Green Christmas Accents
Red and green are truly the colors of Christmas. Take these red seaberries and green moss container for a centerpiece which screams Christmas all over.
20. Repurposed Cheese Grater Candle Light Illuminator
"Beauty is in the eye of the beholder", with old household stuff transforming into something unique and useful. It may not look like much but I can imagine the candle light illuminated from within. It would be great in corners and side table tops.
21. Rose And Pine Christmas Arrangement
Flowers are few in the winter season but some, like some rose varieties, are winter hardy. Throw in some evergreen boughs for a gorgeous natural Christmas container or centerpiece.
22. Simple And Easy DIY Christmas Centerpiece
Anyone can pull this natural and elegant decor off even on the very day! Make sure to add elements of green, red, structure and balance for a beautiful Christmas display.
23. Orange Peels Christmas Tree Decoration
Get yourself a California orange grove-inspired Christmas tree. Hang orange balls from dried orange peels up the branches for a unique take on the famous Christmas trees.
24. Whimsical Tree Branch Christmas Centerpiece
Take inspiration from the deciduous shrubs and trees in your garden. Or just take the actual plants with their bare branches and make this fanciful centerpiece for the Christmas table setting.
25. Yule Log Candle Holder And Christmas Centerpiece
Lit candles in a Christmas dinner table setting have a way of adding warmth to the ambiance. This yule log centerpiece with carved candle holders is just perfect for this indoor Christmas design.
Make your own natural DIY Christmas centerpiece and learn how to in this video from Alsip Home And Nursery:
So, there you go green thumbs! 25 stunning indoor Christmas decoration ideas you can do in less than a day with your garden to help you. Spread cheers this holiday with fresh decorations and a home smelling nice and warm with natural plants!
Which among the garden-inspired Holiday decor ideas did you like best? Tell me about how you are doing with your indoor Christmas design in the comments section below.
Don't forget to decorate your garden this holiday. These 17 fabulous Christmas garden decoration ideas will surely transform your garden into a Christmas winter wonderland.