A Christmas garden without the iconic winter season plants? Surely, you are missing on a chance to decorate your home traditionally and naturally for this big family occasion. Check out this rundown of stunning and hardy plants from your Christmas garChritmas-garden-ideas_01den for a wonderful holiday display!
Christmas Garden Ideas Every Green Thumb Will Love
Back then, you'll find my home decorated with artificial Christmas flowers, glittering papers, and plastics. Well, that's how it was some years back when I didn't know better. I thought I could reuse those artificial items, but in the following Christmas, they end up in the dump. One of the best things about having a garden is how your plants can be a source of lovely materials for decorations. Not only are they a free source of decor materials but best of all they are organic. Here are some of our delightful and festive Christmas garden ideas.
1. Evergreens Christmas Centerpiece
Probably one of the most identifiable icons of the winter holidays is evergreens. They are trusty plants when it comes to winter holiday decorations. The warm pine scent of the leaves always bring sentiments of Christmas pasts. Whether for holiday wreaths, table centerpieces or mantel decor, you can count on winter evergreens for your Christmas decors.
2. Holiday Potted Poinsettia
Although the Poinsettia is a native of the warmer Mexico, you can grow this favorite Christmas plant in containers in the temperate North. You'll be amazed at how the green leaves will transform into a fiery red during the cold winter months. Allow some potted Poinsettia outdoors when the weather isn't freezing during the day. The warm sun will do them well and they'll be great for your front door or porch as decor.
3. Sage Christmas Wreath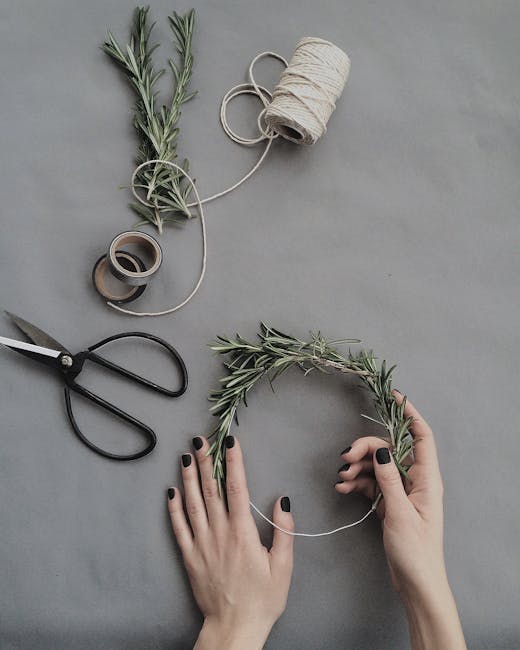 Who says Sage is only for the kitchen? Why they make some mean Christmas decor with their silvery foliage, plus you can later reuse them in the kitchen. A few long stalks of Sage and a wreath frame will easily do the trick. Throw in some holly or cranberries to make it seasonal and interesting.
4. Classic Christmas Holly Wreath
You'll find this famous plant common in Christmas literature and illustrations for pretty obvious reasons–the green glossy leaves and red round berries plus its a pretty hardy plant. Few Christmas plants are as iconic as the Christmas holly which is common in most Christmas decorations. From garlands to Christmas mantle and more commonly in Christmas wreaths.
5. Traditional Christmas Mistletoe Christmas Kissing Bough
Christmas is also a celebration of family tradition and family tradition isn't complete without a mistletoe bough hanging somewhere. Hunt for these interesting plant among withered tree branches where it thrives. Sure artificial kissing balls will do, but surely you must know, natural is always the best. A whiff of freshness in your organic Christmas decor makes it all the more real and traditional.
6. Bay leaves Christmas Wreath
Another great perennial evergreen herb which is not only good for the garden landscape but also for the kitchen. It's an amazing winter plant which is a must-have in every garden. Try this perfectly smart idea. After your laurel leaves served its purpose as a Christmas decoration, clean the leaves and dry them to use later in your kitchen.
7. Firethorn Christmas Yule Basket
You will have to be careful when handling this plant. It's in the name itself – thorns, and they have lots too. Use thick gardening gloves, or better yet find a substitute like a winterberry holly. Firethorn may be thorny but they just look great for Christmas decor and Christmas garden landscape. Cut a few boughs with ivy, hollies and pine cones for a delightful winter basket.
8. Christmas Ivy Decor Idea
You won't have trouble looking for this one since it's pretty common in many gardens. The variegated types are the ones usually associated with Christmas decorations. Make sure to keep the base of your ivy cuttings in water before setting them up for decorations lest they wilt. This ivy decor idea is great in neglected corners to boost appearance.
9. Eucalyptus Wreath Idea
Forget about pine and hollies. With the silvery foliage of eucalyptus, any garden decoration will look more interesting. Take on a unique Christmas decor project and use interesting plant foliages like the eucalyptus. Add a few hints of traditional Christmas plants to keep it festive.
10. Magnolia Christmas Wreath
What's great with Christmas in the south is how the plants are still as vibrant as it is in summer. There is now a wider array of plants which can be used for Garden decorations like the glossy and green and bronze leaves of the Magnolia. You will find a lot of homes using magnolia leaves for their Christmas garden and home decoration. It's easy to work with and it's got an interesting foliage perfect for Christmas decor.
11. DIY Mini Cranberry Wreath Place Cards
Cranberries are in season during the cold fall and winter months. Find great ways to use them both for your palate and for garden decorations. If you've harvested more than enough, they make great Christmas wreath you know. Give your Christmas dinner guests a warm welcome with these personalized mini wreath place cards. With cranberries and a few pine leaves, they'll totally feel extra special with this personal touch.
12. Rosemary Mini Christmas Trees
Doesn't Rosemary look just like the famous evergreen Christmas symbol with its needle-like leaves? Well, Rosemary is an evergreen too, cold-hardy and grows well in the winter months. They've been used in topiary so just imagine what more they can be of use of especially in your Christmas garden. Wouldn't you think a small Christmas tree is adorable when it doesn't only look great but smells great too? Trim your bushy potted Rosemary into a Christmas tree shape. Don't throw those cuttings away but use them for greater culinary purposes. Grow more rosemary from those too.
13. Red Twig Dogwood Christmas Container Garden
This interesting plant has been frequenting Christmas decorations, they're now cultivated for this purpose. Don't go looking somewhere else but grow some in your garden. You'll find them not only great as decor stuff but great for your garden landscape.It's interesting how some spindly twigs can be interesting even beautiful in the red twig dogwood.
14. Winterberry Holly
When the autumn season causes the leaves of the winterberry to fall, red and orange berries remain. It gives an amazing display of colors perfect for an amazing Christmas garden landscape. Take advantage of the varying colors around you and take this as an inspiration for your Christmas garden landscape. Gather them up into a cornucopia of colors in one container for a great Christmas container garden.
15. Juniper Berries Staircase Garland

The blue colored berries of the Juniper gives a striking contrast to the green needle-like leaves. So much so they are a favorite in Christmas Decorations and common in winter gardens. Add warmth and color inside your home with a simple juniper berry garland. Your staircase could use some decor but they're great in a Christmas mantle too.
16. Cotoneaster And Evergreens Holiday Wreath
Not only are cotoneasters great for Christmas decorations. The fruits are a lifesaver for birds during the harsh winter months and a nectar source for bees in the blooming months. Although hollies and conifers are more prominent Christmas plants, there are others which are also great for Christmas decorations. Check your winter garden for great substitutes. You can use rose hips and crab apples instead of holly berries or you can use fir leaves instead of pine.
17. DIY Boxwood Christmas Wreath
Just when almost all plants are turning for the winter, the trusty Boxwood stays on giving us more reasons to go natural with our decor. This evergreen which is also great for topiary can be used and fashioned into Christmas garden decorations–mini Christmas trees, garlands, and Christmas wreaths. Use the tough and glossy leaves of the boxwood for some simple Christmas wreath project. Trust your imagination and use them for more Christmas decor ideas and projects.
Check out this video on how to make Christmas urns from plants for your porch:
There you have it, practical green thumbs! Holiday decorating ideas inspired by your Christmas garden plants. Don't forget to follow safety precautions when using organic materials for decor purposes!
Are you up to any of these Christmas garden ideas for the holiday? We'll be glad to hear all about it in your comments below!
Up Next: 15 Things You Should Be Doing This Fall And Winter Garden Season
Don't forget to follow us on Facebook, Instagram, Pinterest, and Twitter for more smart gardening ideas!
Editor's Note: This post was originally published in December 2016 and has been updated for quality and relevancy.