Fall is just around the corner and it's no reason for us to hold off on planting till spring. Learning how to grow lettuce especially in this season is a great money-saving idea for you to take on.
I'm sure you've noticed how the prices of vegetables can be steep during the winter season. And with the holiday spending, most of us just couldn't stretch our budget enough.
So I decided to grow my own greens, especially for the coming holiday celebrations. You too can grow your own lettuce and make your table festive with greens you've grown on your own.
How To Grow Lettuce For A Free And Fresh Winter Supply
You may think buying your greens from the market is easier, although, I used to think that way too. But I think you know by now nothing is tastier and safer to eat than the ones you've grown yourself naturally.
Nothing can be fresher too than the ones you harvested and goes straight to your table in no time. And to top it all, they had cost you but a fraction of the cost of store-bought greens.
You'll be surprised growing lettuce is relatively easy and you can enjoy it in as early as thirty days.
Planting Lettuce In Fall
You can grow any variety of lettuce for fall planting. Starting at eight weeks before the first frost, you can sow any variety of lettuce seeds two weeks apart of each batch. If you got a month before the first frost, cold-tolerant variety such as butterhead and romaine would be ideal.
Lettuce Varieties For Fall Planting
1. Butterhead Lettuce
This sweet-flavored lettuce is a head type with a rather loose leaf arrangement. It is also known as Boston or Bibb lettuce.
2. Crisphead Lettuce
Although this variety is less tasty and nutritious it is quite popular in the US. It is also called the iceberg lettuce and is heat sensitive, perfect for growing even in the cool autumn season.
3. Looseleaf Lettuce
Looseleaf lettuce has an interesting leaf structure that makes them great in salads. They are the simplest variety for home growing and is therefore widely homegrown.
4. Romaine Lettuce
If you want the nutrition in your greens, then the Romaine lettuce won't disappoint you. Plus it tolerates weather extremes more than any other lettuce variety.
5. Summercrisp Lettuce
This variety is also called the Batavian and is midway between the heads and loose leaf types. They tend to be larger and are quite flavorful.
Ways To Grow Lettuce
1. Container
Lettuce grows surprisingly well in containers. In fact, growing lettuce in containers takes out gardening hassles like pests and weeds. And you can take it indoors to protect your lettuce from frost. But, as expected, you'll have limited yields or supply.
2. In-ground
Although growing lettuce directly from the ground can give you more yields, the task could be an uphill climb. But if you're up to the challenge then your reward could be greater.
3. Raised Bed
Depending on the size of your raised bed, you can grow more lettuce in different ways. And you can set up a mini greenhouse in your raised bed to help protect your plants when the temperatures start to drop.
4. Growing Lettuce From Scrap
One good thing about the romaine lettuce is it can tolerate frost. But the best thing about it is it can regrow from scraps or from the base where you pulled off the leaves to eat!
How To Grow Lettuce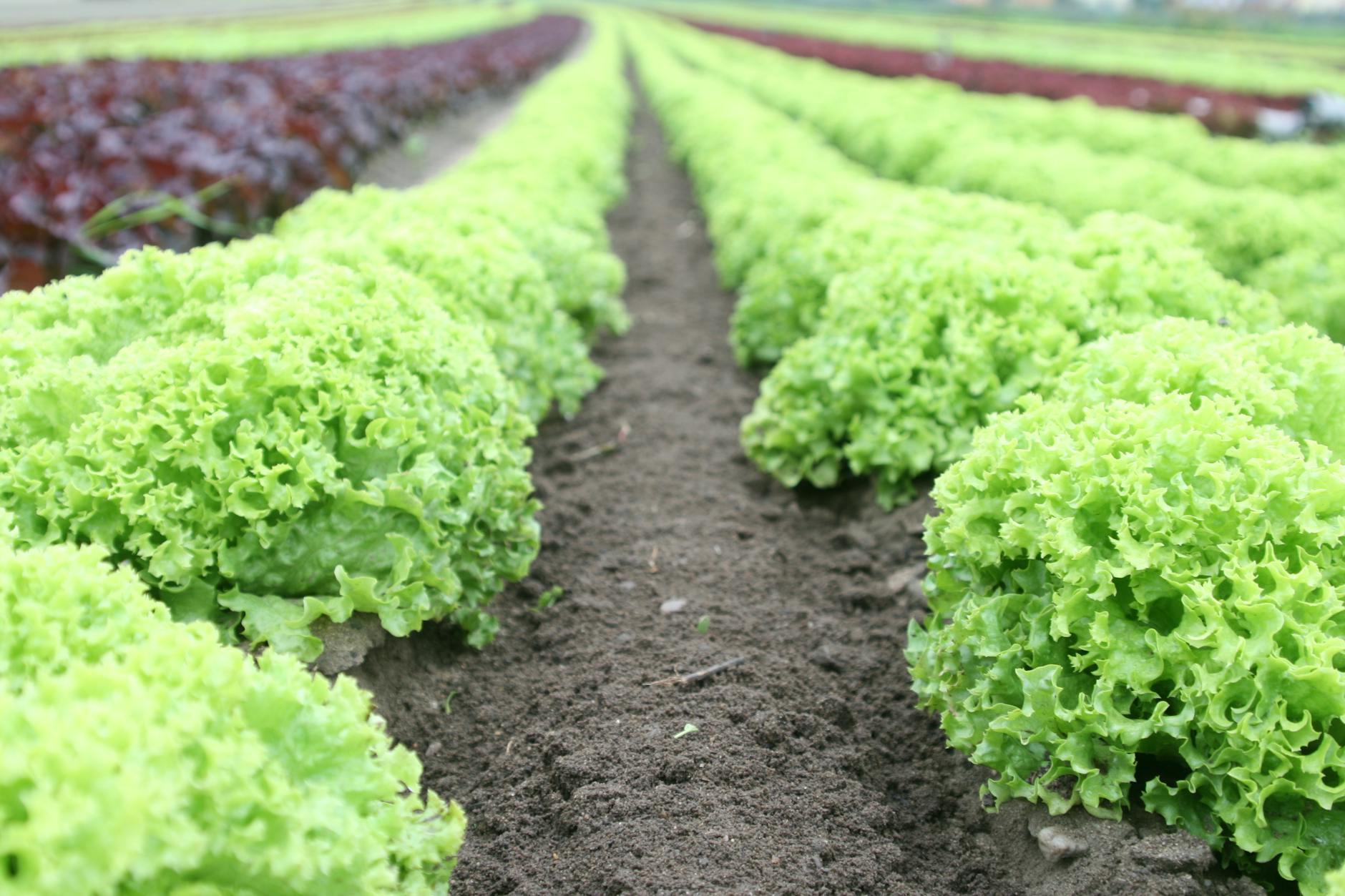 Grow your own lettuce with these five easy steps:
Prepare seed starting kit by filling out the trays with compost or a loose, rich, and well-draining soil.
Drop 2 to 3 seeds in each tray section.
Water the tray or you can spray compost tea to help boost growth.
You can use indoor grow lights to help boost growth too.
Your seedlings are ready for transplant after a few weeks when they've grown 4 to 5 leaves.
Caring For Your Lettuce Plants
Lettuces are pests and disease-resistant but slugs and snails can be pretty aggressive so watch out for these critters. Lettuce can be thirsty too so make sure your plant bed stays moist but not too wet.
Harvesting Lettuce
It is best to pick or harvest lettuce in the morning when it is in its freshest state. Mature lettuce gets tough and tastes bitter so it's better to pick lettuce early than late.
Tips For Growing Lettuce
Grow lettuce both indoors and outdoors. You can fill in harvested lettuce from your garden with your indoor lettuce. Lettuce makes good ornaments too with their variety of colors. You can also grow lettuce with broccoli and brussels sprouts and they will benefit from each other.
This video from Bandq can give you more ideas for growing lettuce:
It's high time you start learning how to grow lettuce. I'm sure it's not surprising the family's food expense rise up with the festivities of the fall and winter holidays. Surprise yourself too and save a lot on your budget by growing your own this season.
Ready to try this? Download this FREE printable and keep track of your plants easily.
Planning to grow lettuce this weekend? Share it with me by giving a comment below. You may like growing onions this fall too. 
Like this article? Then, you'll also like these:
Grow A Vegetable Garden With 21 Of The Best Plants For All Season
9 Smart Ways To Grow Your Own Food So You Can Save Money
Fall Gardening Tips For Great Success in Spring
Feature image source via thenewdaily