Want to find out how to grow blueberries or if you can even grow them at all? Amazingly, anyone can grow blueberries in their garden if the variety suits their area. Learn more about how to grow blueberries with this foolproof growing guide!
How To Grow Blueberries Like Expert Growers
If you ask me why you should grow blueberries, the answer is simple: Blueberry pies, blueberry pancakes, blueberry muffins, or simply fresh and wholesome blueberries on their own. Blueberries are a favorite around our home; we pretty much have a fresh blueberry cheesecake in our refrigerator all the time. So before we get carried away with these sumptuous and scrumptious blueberry recipes, let's get planting first. Read on to be guided by these great tips on how to grow blueberries.
All About Blueberries
Many of us have fond memories of picking fresh blueberries in the wild. However, now I don't have the luxury of going to the wild, so I'll content myself with growing my own blueberries in the yard. The good thing is, growing blueberries isn't at all tough and I can still get my stash of fresh blueberries this way too.
Besides the delightful fruits, which, by the way, can be produced by blueberry plants for up to 20 years, blueberry is also great to grow for a garden landscape. They offer a flaming red foliage in autumn and dainty bell-shaped white flowers in spring. But best of all, blueberries are a very nutritious fruit that's high in antioxidants. You can also find out more about blueberries here.
Know Your Blueberry Varieties
For success in growing blueberries, it's essential to choose the right variety for your area. To help you choose the right variety to plant, you need to know the number of chill hours in your area. Contact your Agricultural Department to find out your area's chill hours.
If you live in a cold area with 800 to 1000 chill hours or so, you can grow the Northern Highbush variety. While in a warmer climate of 150 to 700 chill hours, you can go for the Southern Highbush blueberry variety. Get at least two different types of variety for pollination and optimum yields.
How To Grow Blueberries
Step 1. Prepare Plant Bed
Growing delicious blueberries all starts with the soil, and blueberries like it acidic. To find out the pH of your soil, you can buy a soil testing kit, but you can also do this soil test without using any equipment. A soil pH of 4 to 5 should be ideal for growing blueberries.
Preparing your plant bed for growing blueberries should be done way ahead of planting, up to a year even. Amend you basic soil with pine needles and bark mulch both to increase acidity and improve drainage. If drainage is not an issue with your soil, you may dig an 18-inch planting hole and add sphagnum peat moss mulch to improve acidity.
Step 2. Purchase Blueberry Bare Root Or Plant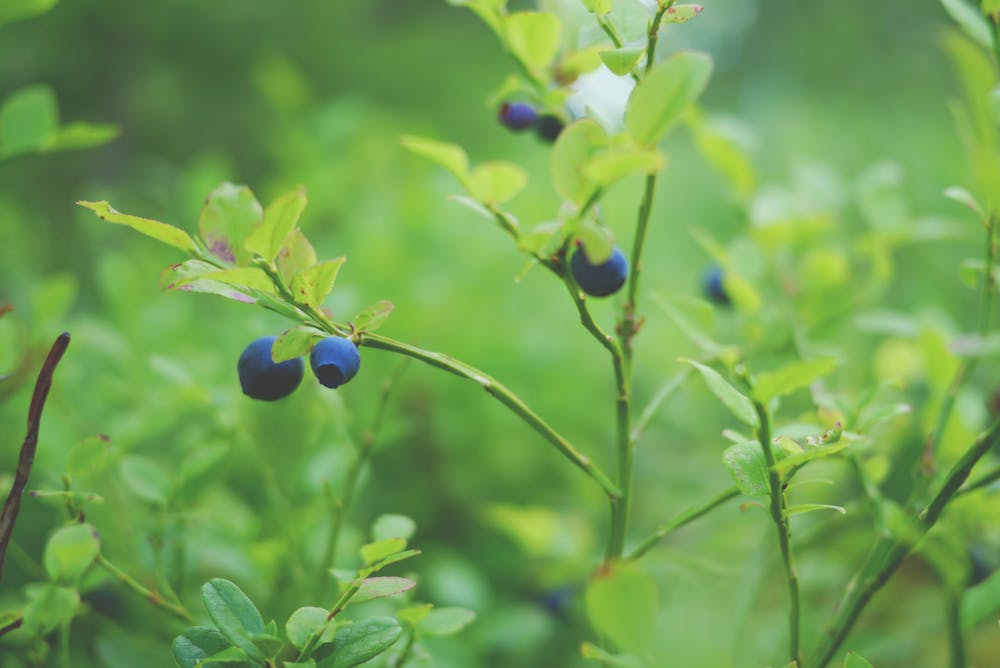 You can grow Northern highbush variety from 1 to 3-year-old plants in spring so they can have time to establish till winter. Look for reputable nurseries where you can purchase this variety. While spring is the ideal time for planting blueberries, it's best to grow Southern Highbush or low chill variety from dormant bare roots in autumn.  Fall planting will allow the plant to grow roots before dormancy.
Step 3. Plant Blueberries
For planting 1 to 3-year-old blueberry plants simply dig a 20-inch deep and 18-inch wide hole in the prepared plant bed. Space the hole of at least 5 feet and transplant the potted blueberry plant. Do the same when planting blueberry bare roots in autumn. Apply a good layer of sawdust or pine needles over the plant bed to keep the soil acidic, moist, and rich in organic matter.
Step 4. Blueberry Plant Care
A moist soil is ideal for growing blueberries in, but it needs to be well-draining too. So keep your soil moist by giving it a watering of one to two inches of water per week. Avoid pruning blueberries in the first four years. You can prune thereafter in late autumn, particularly cutting off the lowest branches of low-lying bushes. Although wild blueberries thrive in semi-shaded areas in the wild, a sunny spot is preferable for more fruits.
Step 5. Protecting Blueberry Plants
Keeping the blueberry bushes mulched will help keep it moist and protected from weeds. When the blueberries start bearing fruits, birds will likely be drawn to them too. You can apply a netting over the plants to keep them protected.
How To Grow Blueberries In Containers
Growing blueberries in containers is not only possible, it's easier too. Knowing blueberries to be acidic soil loving, growing them in containers will allow ou to control your soil's acidity. It also allows you to grow fruits in small garden spaces. Use a large container, at least 18 inches wide to grow blueberries in. Follow the same procedure above for spring or fall planting.
Check this video for tips and info on how to grow blueberries in your garden:
Did you know blueberry is an ideal fruit-bearing plant to grow in your secret survival garden? Well, now you know how to grow your own blueberries in the garden. With all the good things growing blueberries does for you, I'm sure won't waste time getting started. Grow your own blueberry bushes now with this growing guide!
Got questions and tips of your own for growing blueberries? Let me hear all about it in the comments section below!
Have you been throwing fruit seeds before? Don't waste those seeds away and grow these fruits from seeds.
Don't forget to follow us on Facebook, Instagram, Pinterest, and Twitter for more smart gardening ideas!
Feature image source via Growing Produce