Garden pond is becoming an increasingly familiar feature in a garden landscape. Whether in small garden spaces or sufficient ones, more and more green thumbs are trying their hand in water gardening.
I, myself, have been looking for ideas and guide to building a natural water feature in my garden landscape. Although building a pond even a small one, seems a daunting project expense-wise.
Surprisingly, you can build a water feature on the budget with these simple design guide and ideas.  Read on to learn more about building a natural pond without the big spending.
Create A Natural Garden Pond Without The Big Expense
When I think of building a garden pond, I see filtering systems, chemicals, and circulating pumps costing hundreds of dollars. It took a while for me to finally decide on building one for myself.
After looking closely at garden pond ideas, I've realized these water features are just too cool not to go for. Personal accounts from people who are enjoying a garden pond where quite helpful too.
I've learned a garden pond on the budget is possible by going natural and knowing how the ecosystem work. Learn all about these tips and ideas as you read on.
Natural Garden Pond Design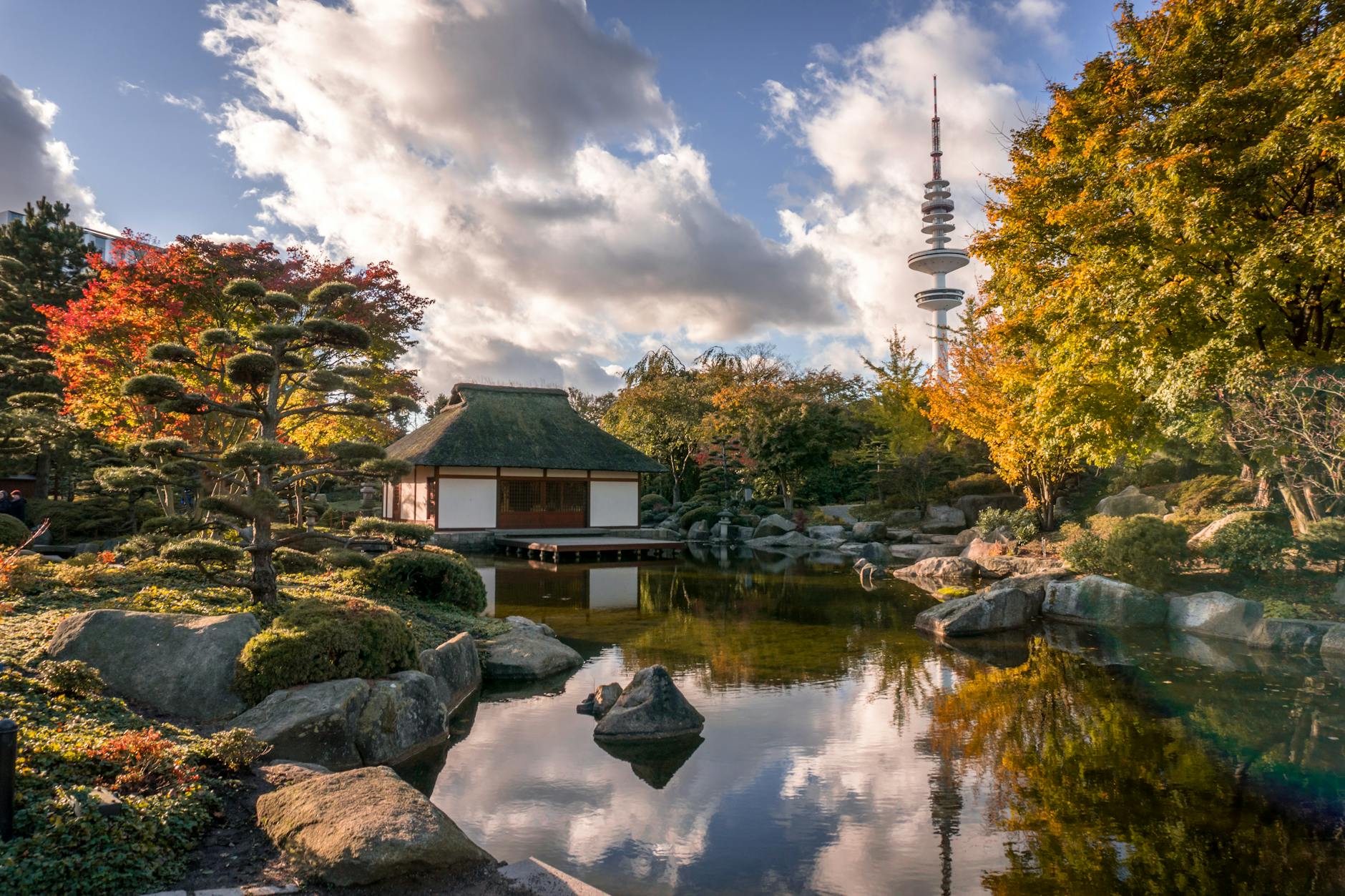 Doing a research about natural garden ponds and water features will give you inspiration for your own pond project. Looking on natural ponds and how they work will give you a pretty good idea on how to go about with your own pond.
Designing a natural garden pond will need to consider factors such as soil composition, location, and size. A natural garden should be able to host organisms and have enough room to grow for pond plants.
Maintenance is also a primary consideration. A natural garden will require less if you allow for nature to take its own course in your design.
Garden Pond Plan And Layout
Besides taking into consideration what you want your pond garden to look like, a layout and plan are essential to hosting a mini ecosystem. Pond plants, for example, will need to be considered in your layout and plan.
A natural pond has to have different level or depths to host plant needs. There are pond plants which grow best in the moist edges of a pond like the Cannas. Water Lilies need to be submerged, on the other hand, with only the leaves floating above the surface.
Having a deeper portion will also allow for your pond to host different organisms to balance the ecosystem.
Water And Pond Plants Selection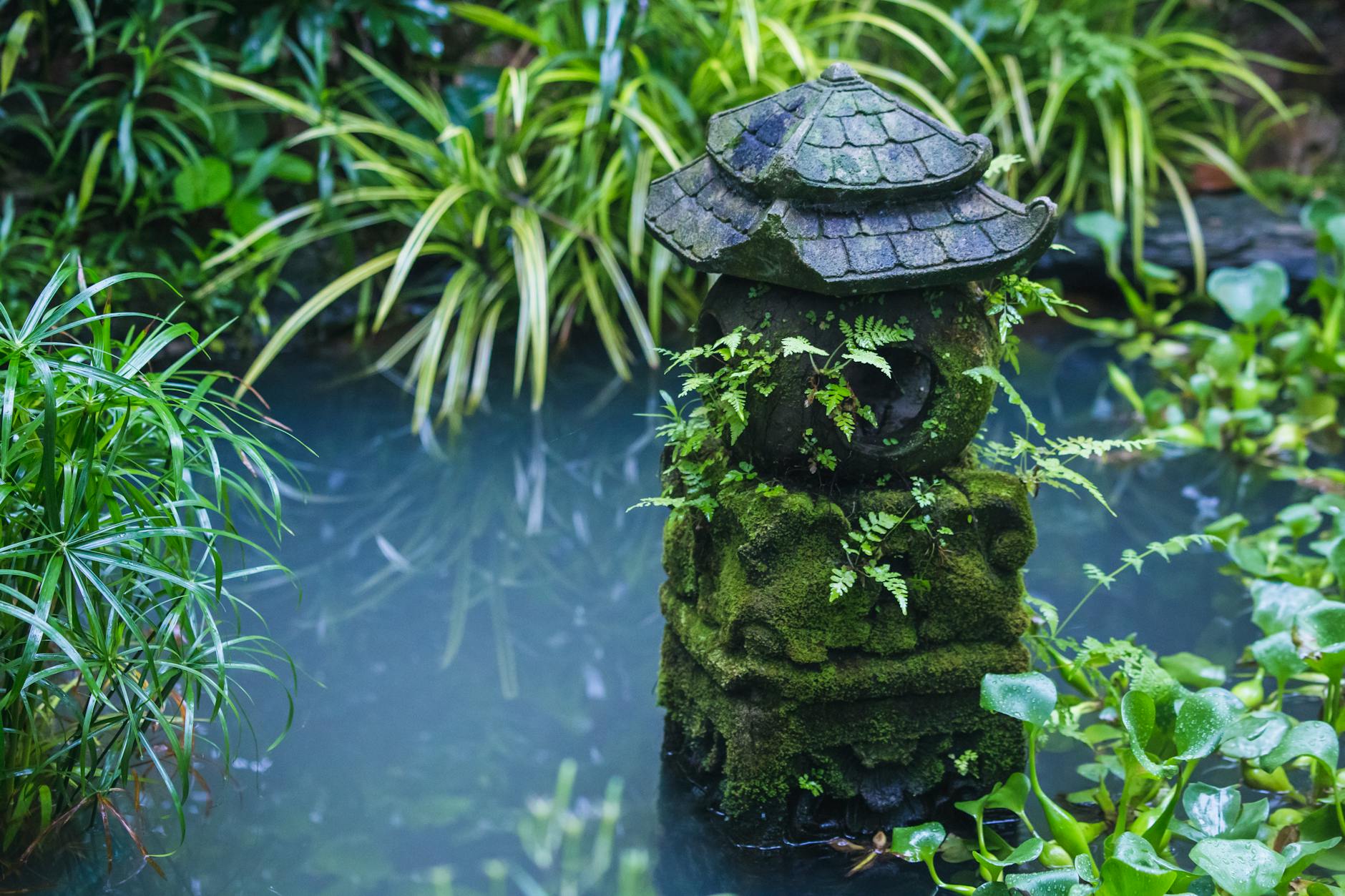 Growing bamboo on the edge of a garden pond is ideal with roots filtering the water. If bamboos are not hardy in your area, go for plants like zebra rush. They look like mini bamboos without leaves to clutter your pond.
Grow as many water plants like water lilies to control algae growth as they will absorb the nutrients in the water and keep bad algae at bay. They also shield the water from the sun which promotes algae growth.
There are a lot of beautiful and amazing plants you can grow in a pond and you can look for more pond plant ideas here.
Garden Pond Location Tips
Problems with maintenance will occur in ponds located under a lot of trees with the falling leaves. An open area, on the other hand, will allow much of the sunlight which could hurt the pond plants and animals.
Allow you pond to be located near a tree or two and some few bushes. Make sure no poisonous plants or trees are located near your pond especially if fish are to be introduced in it.
If you've got areas around with a clay soil then you've hit a pond jackpot. Clay soil retains water pretty good and you won't be needing pond liners for a natural look.
Size And Shape Ideas For Garden Ponds
There's no standard shape to natural garden ponds. In fact, the more irregular the shape is, the more natural looking. Take inspiration from natural ponds around you or in natural pond images.
A decent size for a natural garden pond should not be less than 2 and a half meters in diameter. It should also be with a depth of not less than two feet in warm areas and four feet in temperate areas.
This is to accommodate pond plants which will play a crucial role in creating a miniature ecosystem. It will also help protect the fish and other organisms in the pond against the heat of the sun and the winter frost.
Landscape Ideas For Garden Ponds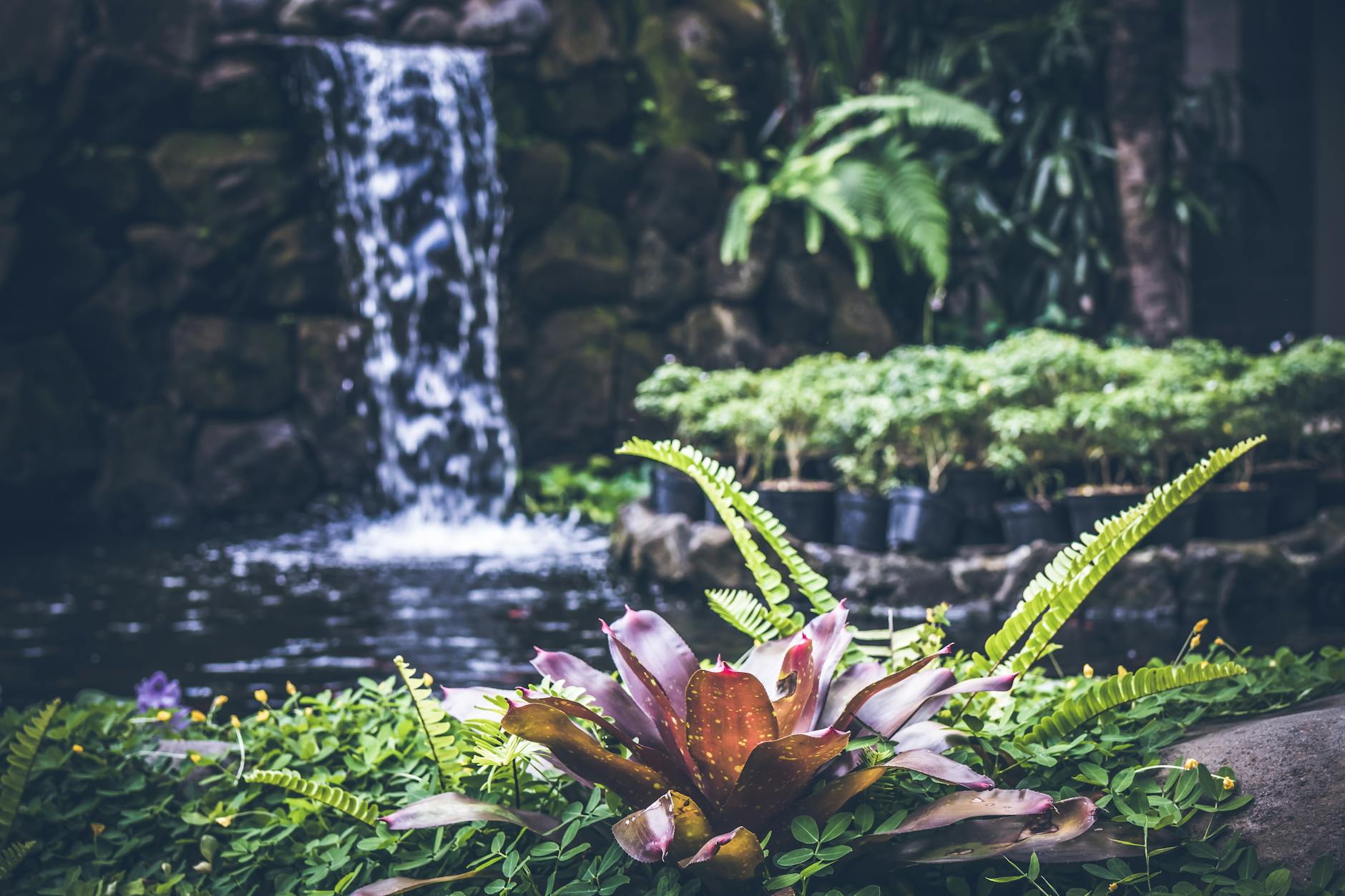 You will notice how the water running through a bedrock is clear and sparkly. For the same reason, plenty of rocks and pebbles in your pond is a must. Choose rocks of different shapes to give the garden pond a more natural look.
Rocks and pebbles in a pond also host microorganisms which feed on the organic matter. This process allows for a cleaner water and balance ecosystem in the pond.
Allow for a beach of small pebbles and sand in a portion in the pond to support animals taking a drink from the water. This is for a more natural look as well.
Garden Pond Lights
Although artificial lights or garden lights do not equate a natural pond, for practical and safety purposes, they're a must. Especially during the nighttime, garden lights will make a pond not only beautiful but will serve as a warning device.
There are solar garden lamps available which double as pest and animal repellents to save on energy bill expense. Or you may even start thinking about solar panel installation if you really are into renewable and clean energy source.
Garden Pond Maintenance Tips
Of all the worries about having a pond, maintaining it is on the top of the list. Gardeners who maintain natural ponds will tell you, "mother nature knows best."
Your water plants and the rocks are mother nature's little housekeepers. As long as you hold on to your end of the bargain by making sure your water plants are well-taken care, nature will take its course.
Worried about mosquitoes? Then add frogs or fish like goldfish and koi in the pond which take mosquitoes as tasty treats. It's the ecosystem in action.
For a natural water garden you can actually swim in, watch this video for more ideas:
Between swimming pools laced with chemicals and natural swimming holes in garden pond, I'd go with natural swimming holes. Besides the beauty of these features, it allows me to grow amazing pond plants. This is a different take on gardening which I am definitely interested in. Who doesn't want to spend more and more time in a garden with a cool natural garden pond? Whether in vegetable gardening on in garden ponds, natural is always the best.
Were these tips, ideas, and design guide helpful to you? How is your own garden pond project doing so far? I'd be excited to know about it. Do post your questions and comments below.
You might want to try this DIY glowing mushroom garden lighting idea as an added feature around your natural garden pond.